Plans Submitted – New Retail Park in Harrogate
August 21, 2018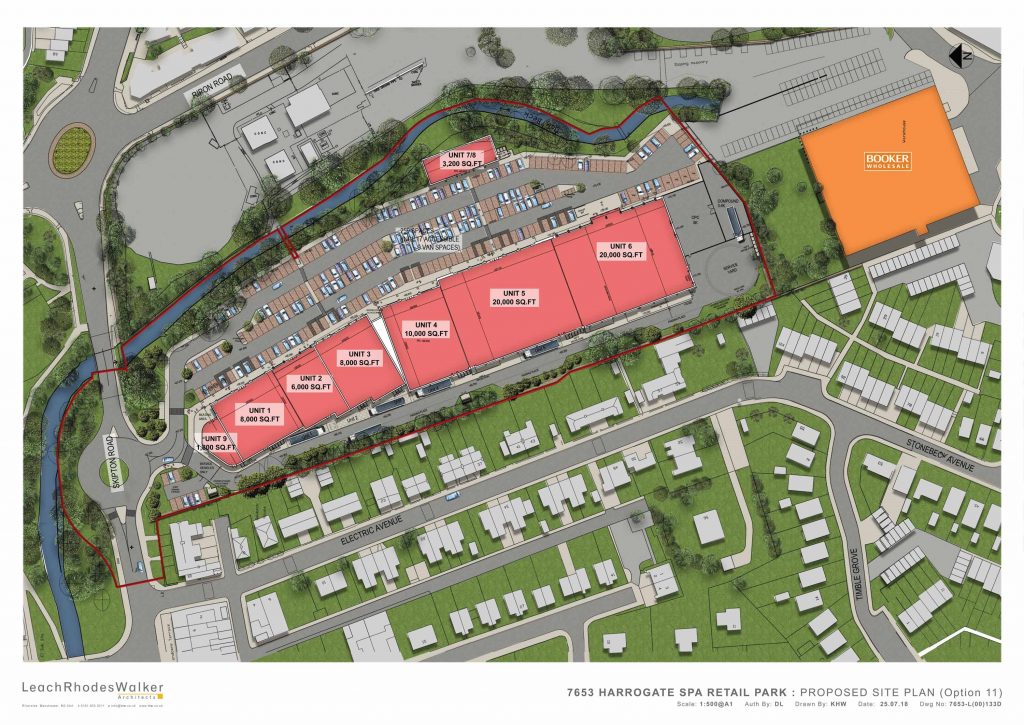 A formal planning application has been submitted to Harrogate Borough Council for a new retail warehouse scheme at Skipton Road, Harrogate.  The proposed scheme, to be known as Harrogate Spa Retail Park will comprise of a parade of up to nine units. It's a new development on a former Gas Works site that has been redundant for many years. More recently the site had a planning permission for a new Tesco supermarket, but the retail giant has decided to now sell the site as part of a rationalisation of its property portfolio.
Eckersley have been advising the developer, Consolidated Property Group (CPG) in relation to both the site acquisition and new development proposals.  Martin Ridgway, the Group Managing Director of CPG, has stated that "the design proposed is for a high quality modern yet sympathetic retail scheme that utilises complementary materials and architectural references to the town centre".
The total ground floor development area is 86,400 ft² (8,027 m²) and a further 55,200 ft² (5,128 m²) at mezzanine level.  Many of the existing boundary trees will be retained and enhanced to create new areas and provide ecological enhancement.
Vehicle access will be via a new roundabout off Skipton Road, with a delivery service road at the rear.  There will be a total of 268 car parking spaces, as well as van spaces, accessible spaces, bicycle and motorbike spaces.
The scheme will create approximately 130 full and part time equivalent local jobs. It's an exciting prospect for the town and positive news as the retail sector has been under pressure for some time as consumer shopping patterns have changed.