Business Rates Re-Valuation – 2017
November 3, 2016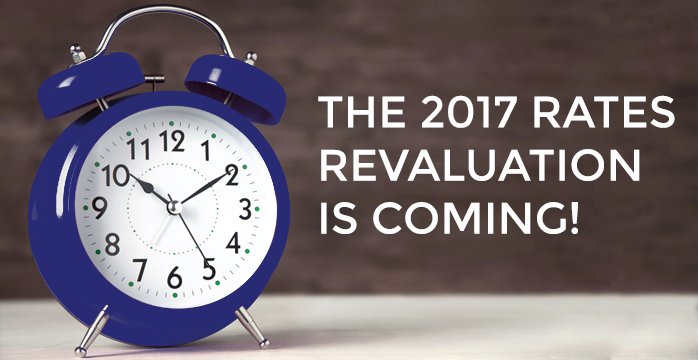 The new Business Rates Valuation List comes into effect in April 2017 and the "draft Rating List" has now been published with effect from 30th September 2016.  Typically there have been changes to the system and, rather than simplify matters for ratepayers, the system has now become even more complicated!
The Government has introduced a new system for business rates appeals which will be introduced from 1st April 2017 and this is known as the "Check Challenge Appeal system".
The basis of the Check Challenge Appeal process is as follows
Check – Rate payers will need to ensure the facts on their new Rateable Value are correct. We are waiting for clarification on the precise details but this is likely to include information about the property's tenure (freehold/leasehold), floor areas and accommodation.
Challenge – This stage can only be instigated by the rate-payer within 4 months of the conclusion of the check stage, with a further 18 months allowed to conclude the Challenge. It could therefore be up to 3 years from starting the process until the ratepayer is allowed to make a formal Appeal.
Appeal – Those granted an Appeal then have up to 4 months to do so and must pay an administration fee of up to £300.  This fee is refundable only if successful.
Our professional body, The Royal Institution of Chartered Surveyors (RICS) and the Rating Surveyors Association have responded to the Government's Check Challenge Appeal consultation and, subject to Parliamentary approval, the reformed system will come into force from 1st April 2017.
Now that the draft 2017 Rating List has been published, it provides an opportunity to review Clients' revised assessments and to establish whether there appear to be grounds for a Challenge to be made.
Eckersley would be pleased to act for Clients and to assist with the Check and Challenge stage of the process.  If an Appeal is ultimately warranted then we would also be able to lodge that Appeal on the Client's behalf.
In anticipation of April 2017 it would be prudent to identify now any clear errors made in the valuation assessment ready for issuing a Challenge at the earliest opportunity.
Clients will be aware that, once the Rateable Value has been firmly established, then this would be the basis of charges for the next five years (or longer) until the next Rating re-valuation.  We would recommend that it is important that assessments are Checked at an early stage and Challenged if there is a compelling case for an Appeal.
For further information, or a without obligation information conversation, please contact Martin Connolly (Preston) or Andrew Taylorson (Lancaster).